About us
SCIENOMICS is a software and services company specialized in Materials Modeling and Simulations. We deliver the right mix of scientifically advanced simulation software technology and contract research services.
Founded in 2004 by Dr. Xenophon Krokidis, SCIENOMICS developed its product offering based on the support it received by major European industries in the field of home & personal care, chemicals and petrochemicals. MAPS represents several man decades of development and revolutionized the materials simulation software by being the first solution introducing scripting for its users. SCIENOMICS is self-financed and has developed its activities worldwide thanks to its subsidiary in the US and its valuable distributors in Japan, China and South Korea. SCIENOMICS collaborates with a wide range of scientific partners worldwide through the SCIENOMICS Group of Scientific Excellence. Today MAPS users represent a large group of researchers within several industrial sectors, government sites and academic institutions. As a workspace SCIENOMICS offers favorable conditions and the relevant intellectual challenges to is employees and encourages self-development and creative initiatives.
Our mission is to provide the most scientifically and technologically advanced materials simulation software and services that enable the success of the R&D projects of our customers aiming to develop products and processes of superior performance. Being known as people with superior capabilities and commitment, both as individuals and as an organization. Thinking and behaving globally, and valuing the positive influence this has on our company. Being the partner of choice because we best exemplify collaboration. Delivering world-class performance by using best practice principles. Earning the admiration of our investors, customers and our employees not only for the goals we achieve but how we achieve them.
The vision of SCIENOMICS is to be the software company in materials simulations recognized for its scientifically advanced and highly performing software, the scientific excellence of its people and its commitment to deliver the highest added value to the R&D projects of our customers world-wide for product and process design and optimization.
Our Team composed of PhDs in Physics, Materials Science, Chemistry and Chemical Engineering is business-driven and recognized for its efficiency in supporting key R&D activities of our clients. 
Andreas Bick, PhD
Chief Scientific Officer
Andreas is responsible for guiding the main Research and Development activities of SCIENOMICS. Together with the CEO and CTO he ensures that the connection of software technology and cutting-edge scientific research is maintained in SCIENOMICS. Andreas holds a PhD in physical chemistry and specializes on classical simulations of soft matter.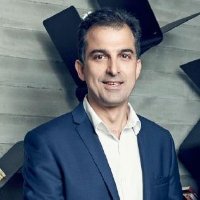 Xenophon KROKIDIS, PhD
President and CEO
Xenophon is responsible for the overall direction and management of company. He works closely with the other senior members of the management team. His research is essentially in Quantum technologies as well as Machine Learning and Artificial Intelligence. Xenophon holds a PhD in theoretical physics and has more than 20 years of experience of the industrial sectors SCIENOMICS serves and in managing complex research projects.
Sylvain Brohan
CTO
Sylvain is responsible for the technology behind the software SCIENOMICS delivers and works in close collaboration with the CEO and the CSO of SCIENOMICS. He has more than 20 years of experience in software development in responsible positions in small and large corporations and is familiar with all modern software development environments.