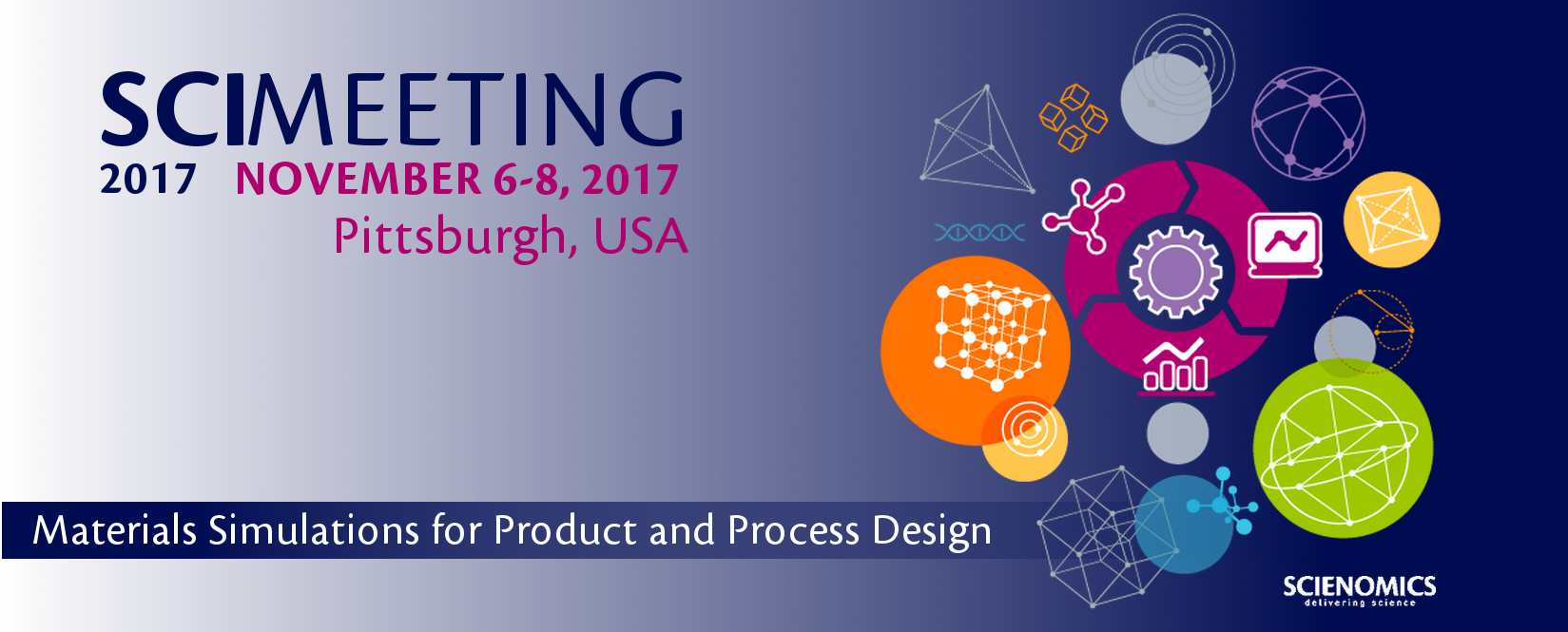 Objective
This international conference aims to promote the use of multiscale simulations technology for Materials Science and Engineering.   Atomistic, molecular, and mesoscale simulations as well as Thermodynamic Models and QSAR/QSPR predictions will be covered in this framework. A special focus is given to applications in an industrial environment.
Advances in theoretical and computational methods and their efficient implementation in Scienomics' MAPS platform will be discussed and illustrated with several case studies of scientific and industrial relevance. Materials "development-by-design" challenges can be tackled using MAPS which has a wide range of model building capabilities, powerful simulation engines, and a variety of property analysis functionalities. In particular, the added value of understanding and predicting materials properties allows to design and select materials that satisfy specific market requirements. As an additional benefit critical insights can be gained by applying such simulation techniques that cannot be obtained by experimental methods or by engineering scale simulations.  Unique data and information thus obtained when combined with experimental data enriches the knowledge about the systems and processes to enable innovation.
The conference will cover applications from several industrial areas including chemicals, personal & home care, oil & gas, materials, auto & aerospace, microtechnology, and pharmaceuticals.
Dates
Nov. 6. Consortium Meeting: Members only.
Nov. 7-8. SciMeeting2017
Venue
HYATT REGENCY Pittsburgh International Airport
Agenda
November 6th (2 - 5 pm): Scienomics MULTISCALE Consortium Meeting
November 7th:  SciMeeting2017

Open to all registrants
Morning session:  Oral Presentations
Afternoon session: Training/Workshop

November 8th: SciMeeting 2017

Open to all registrants
Morning session:  Training/Workshop
Afternoon session:  Training/Workshop

Note: BYOC with MAPS Software pre-loaded before Nov 7th.  License will be provided.
Important Dates
Call for Presentations: Open
Title and Abstract Submission by: 20 Sep 2017
Response to Authors: 30 Sep 2017
Preliminary Program: 30 Sep 2017
Registration for Event: Open
Participation Fees (all taxes included)
Free for Participants who register by Sep 8th, 2017.
After Sep 8th the registration fee is as follows:

Industry participant = $650
Government Lab participant = $350
Faculty participant = $250
Student participant = $100

Guest Room at Hyatt Regency:  Scienomics has negotiated special prices for the event.  This reduced rate is available for bookings by Sept 8th.  After this date the room rate goes up significantly to the regular rate.  Please make your bookings with the hotel directly, using the link provided below, and ask for the discounted SciMeeting2017 rate.
Important links
To register please use the form below
To submit title/abstract for oral presentation please use the appropriate field in the form below
To book room go to the link: https://aws.passkey.com/go/scienomics17
SciMeeting2017 Committee
Joe Feldkamp (Kimberly Clark Corporation)
Nancy Iwamoto (Honeywell Advanced Materials)
Lalitha Subramanian (Scienomics)
Mary Rodriguez (Scienomics)